Trust in Trade-Crete for your Concrete and Civil Construction Projects
When your project requires expertise in the areas of concrete and civil construction, put your trust in Trade-Crete. Our professional team, competitive pricing and 24/7 responsive service guarantees a safe and smooth project from the ground up, for projects of all sizes.
As part of the Trade-Mark Industrial group of companies, you know and trust, Trade-Crete adheres to our relentless commitment to safety, ensuring best work practices are followed at every stage of your project. That means we brings a safety mindset to every aspect of the site, and come well-equipped with technical experience and project efficiency to keep you on schedule and on budget.
When you work with Trade-Crete, you can trust we'll do everything it takes to make your project a success.
For concrete results, trust Trade-Crete
Industries
Served
Our concrete and civil construction services can serve a wide range of industries, including:
Transportation
Industrial
Manufacturing & assembly plants
Petro-chemical
Automotive
Steel mill
Institutional
Cement & aggregate
Commercial
Marine & bridges
And more
Safety –
The Measure of Success
Safety is of paramount importance in every day and every task performed on-site.
Our team members are trained in compliance with Ontario's construction regulations and work together to create a safe and healthy work environment that every employee and customer deserves, and can be proud of.
Concrete & Civil Construction Services
Concrete forming, placement and finishing
Footing and foundation builds
Equipment pits and bases
Floor trenches
Removal and installation of floor slabs
Retaining walls
Curbs and sidewalks
Patios
Concrete cutting and coring
Ground-penetrating radar scanning
Concrete structural remediation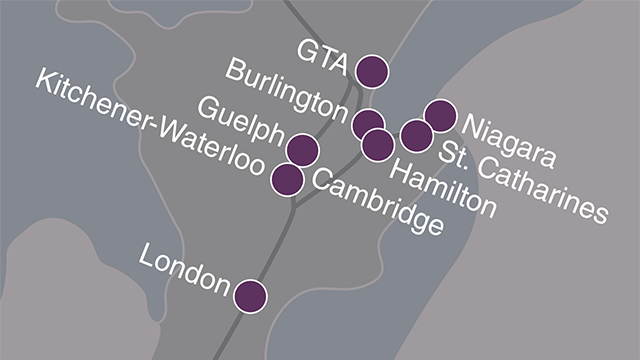 Proudly Serving Southwestern Ontario
We're proud to serve customers across Southwestern Ontario, from Kitchener-Waterloo, Cambridge, Guelph, London, Hamilton, Burlington, St. Catharines, and Niagara to the GTA and everywhere in between.
We Can Help with Your Next Project
Contact:
Chris Reyce
Civil Estimator/Coordinator
Cell: 519.591.5871
Trade-Crete LTD
(Part of the Trade-Mark Industrial group of companies)
250 Royal Oak Road
Cambridge, ON
N3E 0A4